All-New Etsy for Android App
November 10, 2013
I am extremely excited and proud of the newly revamped and completely redesigned Etsy Android app which we rolled out to the public over the weekend.
After joining Etsy earlier this year our team set out on a project to bring the best of Android to the Etsy app. This included designing and building an app that was not only beautiful across multiple form factors, from phones to 7 & 10 inch tablets, but also included optimized screens for each.
Along the way we tackled some interesting development challenges, like building a custom non-standard grid view to support our staggered list (see the trending list below), and developing multiple common components to accelerate our Android processes through reuse. We also added animations and visual effects like blur broadly across the app to create a richer more engaging app experience. Not to mention a totally new navigation system, a new activity feed, new browse categories, new shop info pages and a dual-pane tablet optimized conversations manager.
** Side note: if any of the above sounds interesting to you then you should know that we're hiring - https://www.etsy.com/careers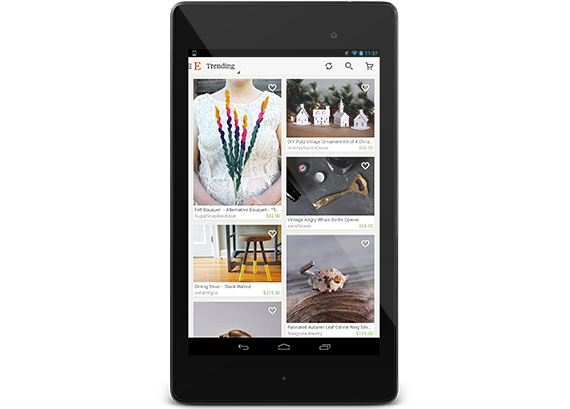 Throughout the whole project our goal for version 2 was to enable more Android users to connect to the amazing and diverse sellers that are making unique items on Etsy.
I hope that you all enjoy using this latest iteration of the Etsy for Android app as much as I did working on it. You can read more over on the Etsy News blog announcing the release.
If you haven't tried Etsy for Android on your tablet or phone just head to the Google Play store to download the app.